Three days, one master and six paramitas – Visit of Shangpa Rinpoche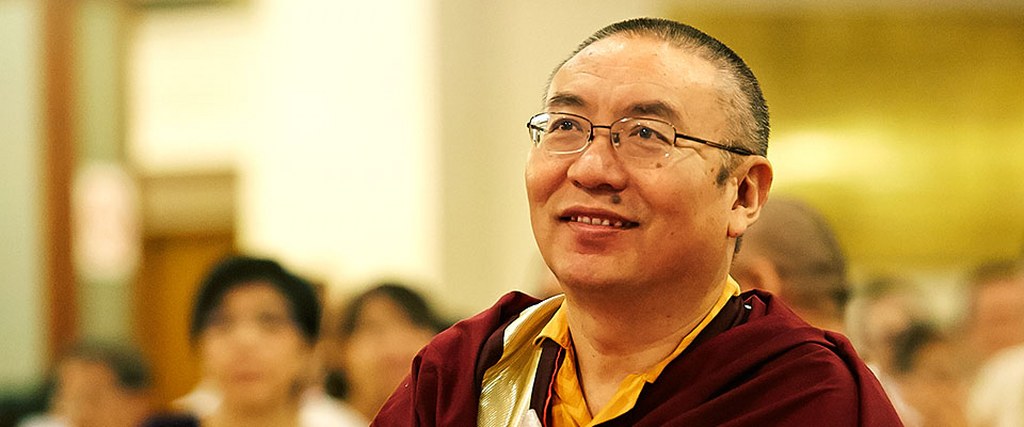 «When a teaching is given, we can find three dimensions: precise information, the inspiration that arises as a form of alleviation or of confidence as well as a measure of entertainment, the teaching is pleasant to listen to. But it is the first two aspects that are indispensable. Likewise, if the teaching is nothing more than a sharing of information, it is not necessary to come to a Dharma center, a school or a university is sufficient. The teaching is a heart to heart exchange through language and this is why it generates inspiration, and this is the essential part. » When Shangpa Rinpoche teaches, his approach is classic. He taught on the six paramita s based on a text from Je Gampopa, The Jewel Ornament of Liberation. But, in his own roundabout way of teaching, he gave advice drawn on his own experience which helps us to understand.
Although he only had three days, he covered all of the six qualities as a group, presenting what is known in Tibetan as dudön, as a summary of the text. This is particularly precious, because he gave key points for each subject that he addressed. In the end, we had a view of the whole of enlightened mind as it works through the paramitas. He explained the mechanism by demonstrating how they are based on causality: each paramita cultivated generates an aspect of the realisation, a capacity that matures along the way to yield all of its fruit at the moment of enlightenment.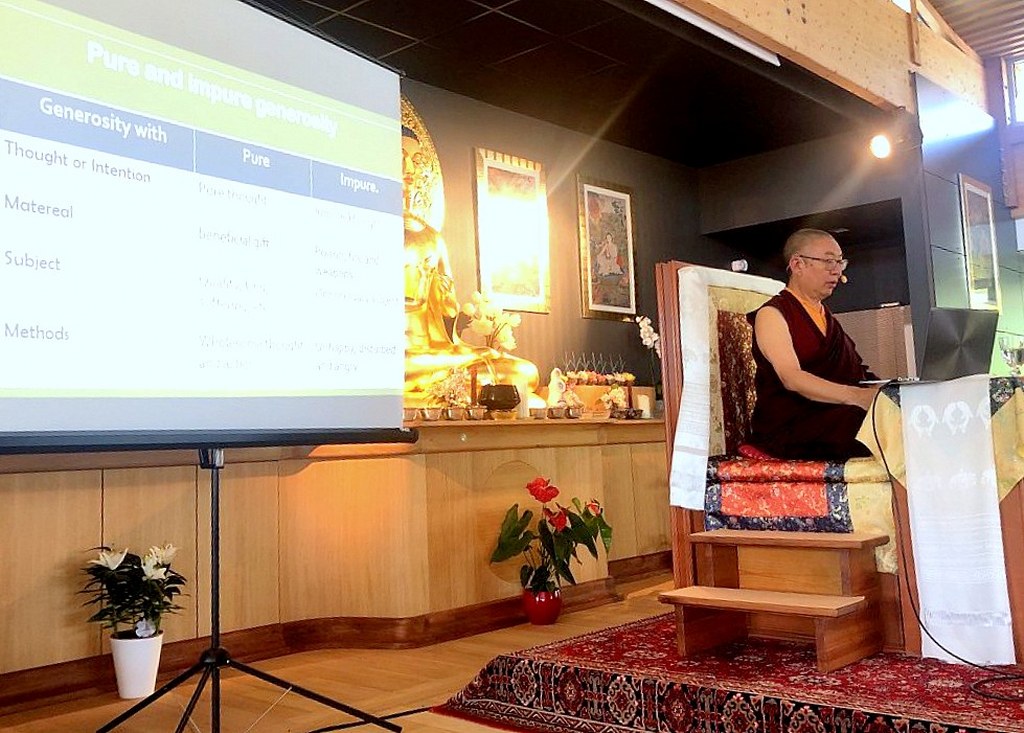 But before going into details, Shangpa Rinpoche put the paramitas in their context. He explained that they are the extension of the enlightened mind in application; the paramitas are the concrete practice of bodhicitta. And he specified: « Sometimes we think that enlightened mind is limited to the practice of love and compassion. But bodhicitta is much more than that. A simple well-meaning action, as beneficial as it is, can be taken as the activity of a bodhisattva. But this is not the case. In reality, love and compassion are the foundation of bodhicitta. With a loving attitude, free from preference, we develop a compassionate attitude; it is on this basis that we can cultivate a superior mind, a mind ready to be beneficial to beings in an immeasurable way. This is when we make the promise to put all our actions into accomplishing the good of all beings. Bodhicitta is the process that results in this personal commitment. »
But before we can open ourselves up to others, we are the real starting point: «The practice of love and compassion begins with focusing on ourselves by cultivating a qualitative aspect of mind: renunciation. We generate compassion towards ourselves through disillusionment, and then we can extend this same state of mind towards others. » This is something to think about.
Rinpoché then explained the meaning of the paramitas: « Paramita means going to the other shore, beyond, much farther, they shape the journey from a state of ignorance to the highest level of nirvana. This expedition begins with the easiest, generosity which can be put into practice by just about anyone. On this basis, we can practice ethics which allows us to gather and preserve favourable conditions. If ethics are well observed, naturally the qualities of patience arise. When we are familiar with patience, perseverance takes hold and it is this quality that gives interest and joy in the meditative practice. Then in the end, through meditation we are directly capable of recognizing reality, it is wisdom. This is how the paramitas progressively bring us to enlightenment. »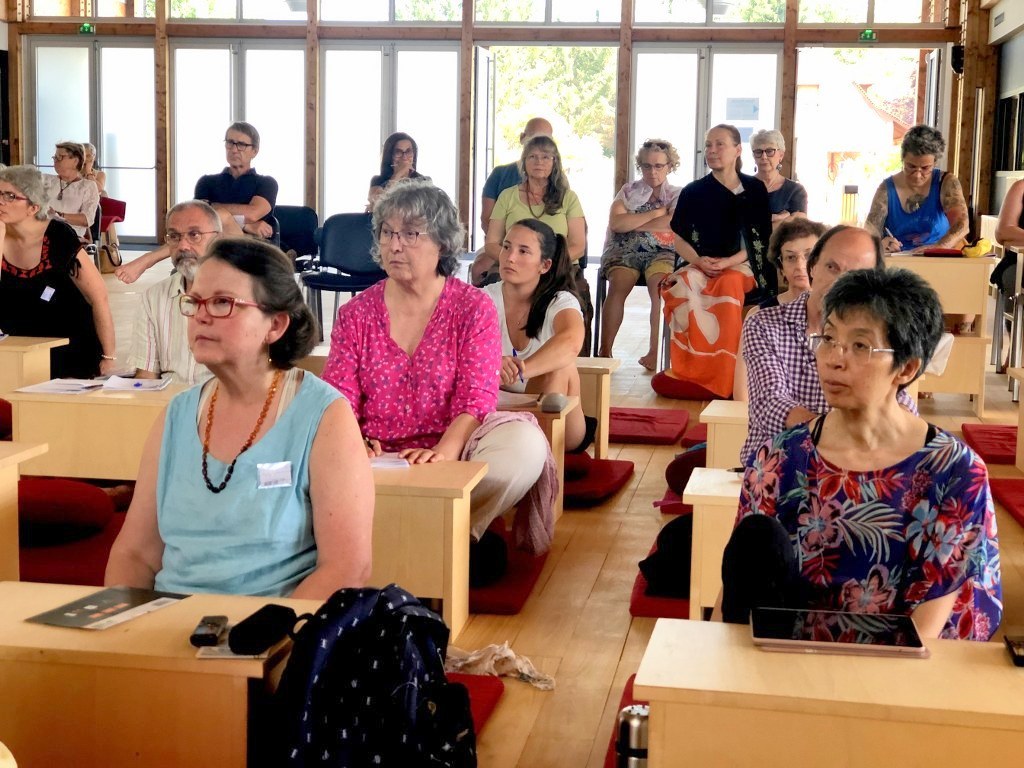 Rinpoche also shows us how these six qualities permeate all of the practices: « There are many methods which come from the three vehicles, but you have to know that each one of them is a way to put one or another of the paramitas into practice. This is why it is important to know the nature of the six qualities and to be aware of their presence in our practice in order to develop them », and he added this metaphor: « It is like preparing a dish. All sorts of food exist with a multitude of flavours and different tastes; there is Italian cuisine, Chinese or Indian and they are all quite distinct. But in each of these dishes, we find calories, protein, fibre, and all sorts of other nutritional values; these aspects have to be gathered not only for their flavour, but also to sustain the body and support our vitality. We have to be attentive that the paramitas are present in each practice like the components in our food; if they are assembled, they support our journey to enlightenment, whatever the form. »
Shangpa Rinpoché based his teaching on the structure of the text from Gampopa, but he makes some detours through the etymology of certain terms in order to help us better understand them, from time to time clarifying the meaning through a story, he puts things into perspective through a metaphor, then some advice to enhance the words.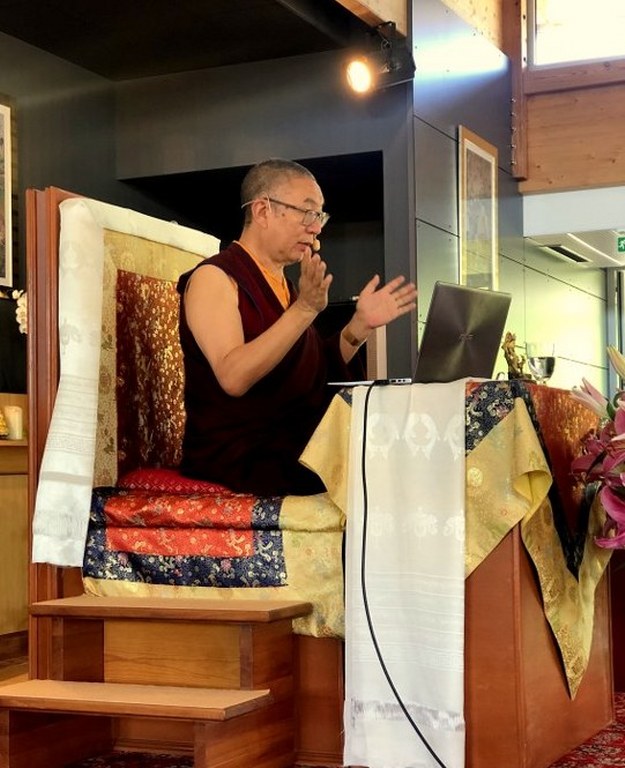 But what we feel throughout the sessions is his concern to provide the means of putting the instructions into practice. Moreover, for the meditation paramita, he went out of his way to give us a few instructions from kagyu lineage masters.
Sunday afternoon, there was very little time for the sixth paramita, wisdom. He gave us the very essence. But in the end, the listeners were unanimous: we must invite Shangpa Rinpoché back so he may explain it in detail.
Puntso, program director for Dhagpo