The 3rd Forum « A Buddhist Perspective on Education and Youth »
Day 1: Freedom or Responsibility? And if it were both!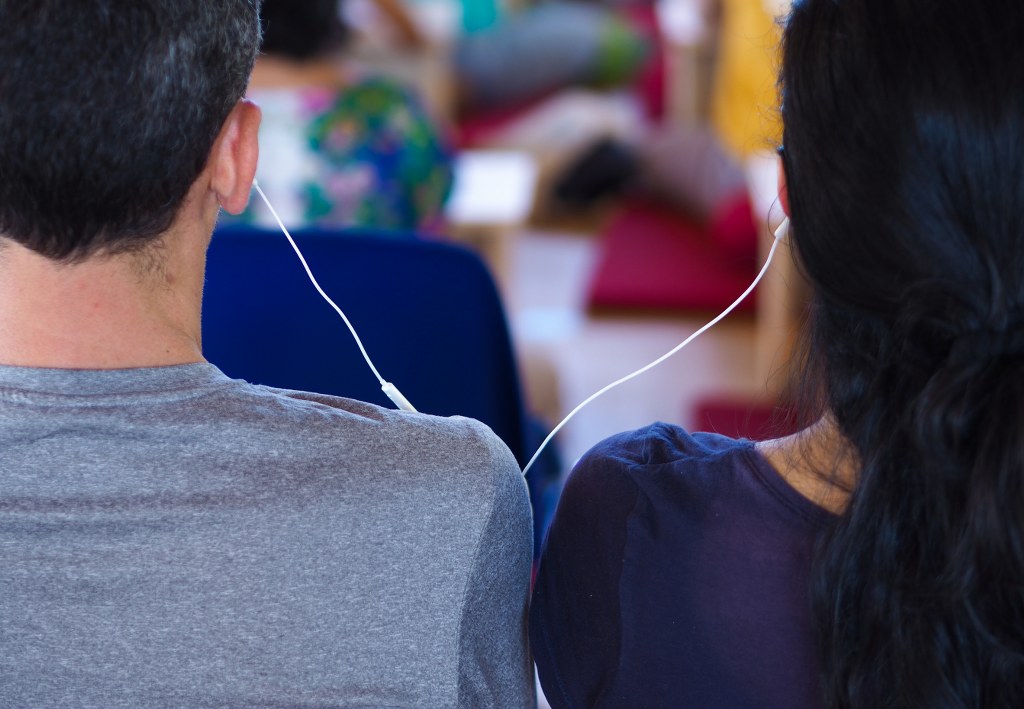 It's rare that, out of a hundred people gathered in the Institute, there are over forty children and teens and a few young adults. But of course that's the goal of the education forums: bring together generations and, by way of open exchanges, cultivate mutual understanding.
The theme this year, taken from our exchanges during the previous forum, was this: Freedom or Responsability? And if it were both! Jigme Rinpoche explained from the beginning that both of these themes are essential. And, as usual, to start off the process of reflection, he gives us the elements which will be our material for the first day. In short:
The introductory point is understanding that life is important and precious, which makes us want to succeed. Therefore, it's important to look at what leads to success and what leads to failure. In other words, to become aware of the causes and effects for both based on concrete situations. The goal of this approach is to become a good human. In order to accomplish this, we need a clear mind free from confusion. In order to gain more clarity, we need an education, which is the basis for better understanding, and this education must be based on an appropriate motivation. In this approach, responsibility takes on a new meaning. Two tools are necessary to carry out this process: communication with an ability to listen and a well-thought-out reflection. Together, these tools generate positive habits. And, finally, it is necessary to cultivate mutual support so that the right course can be maintained.
In the end, the way of communicating leads to understanding and a form of liberty arises because responsibility is no longer a stress. In order to communicate, we must not get stuck in our own ways and, rather, preserve a certain adaptability; we each have our own vision of things, but if we are aware of the generational gap, the conditions are there to open up to relaxation and freedom.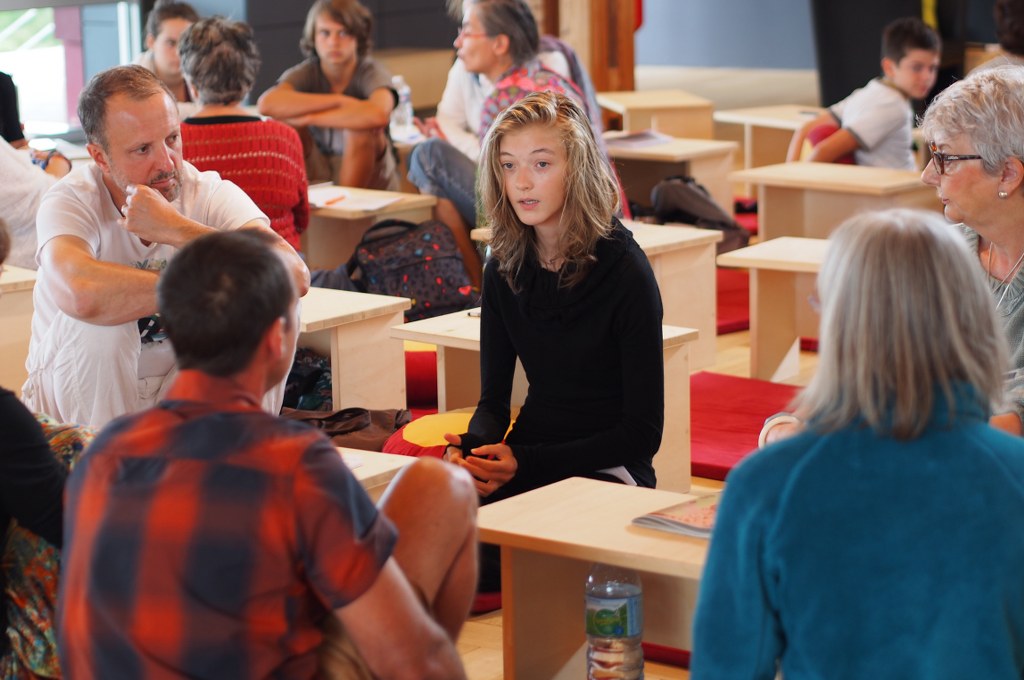 Of course, each of these ideas brings up comments and questions. And so, the different age groups (child, teen, adult) devoted the afternoon to clarifying these ideas and connecting them to responsibility, each in their own way and at their own rhythm.
Following this, there was a "meditative exploration" all together, from seven to seventy-seven years old. After having mulled over the ideas, we needed to spend some time settling down and observing our functioning. We alternated short sessions of meditation with discussion in order to better understand how the mind functions.
The day ended with workshops, an abundance of exercises in connection and communication in order to experience from within what had been discussed throughout the day.
Day 2: The Educational Process
Today, lama Jigme Rinpoche met with two groups separately to respond to their questions: the under-eighteens and the over-eighteens. The youngest asked specific questions about Buddhism: What is karma? Did you become Buddhist because of your family or by choice? What's the deal with reincarnation?
The adults wanted to clarify the exchanges of the previous day: What is a successful life? What makes a good person? How do we not let our judgments get the best of us? What do you mean when you speak about manipulation?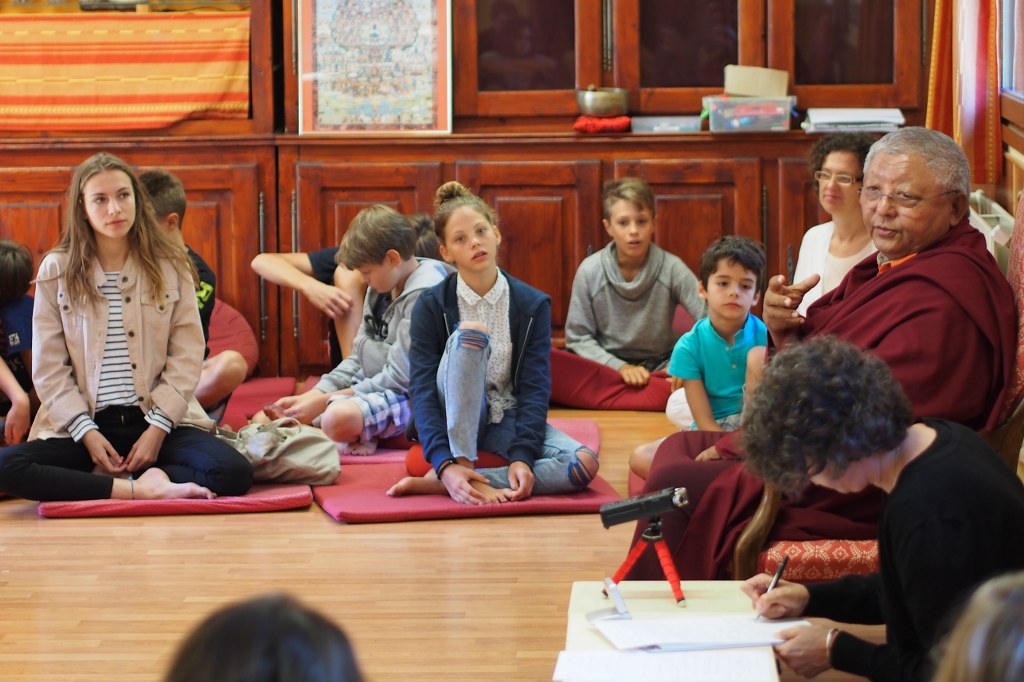 Once again, Rinpoche's responses became the material for the afternoon's workshops and reflection (among kids, teens, and adults). The children worked with the idea of responsibility through games. The teens exchanged about the meaning of responsibility and freedom in their family. Adults went over the mornings instructions again to deepen their understanding, given that Rinpoche offered very concrete advice about how to work with children.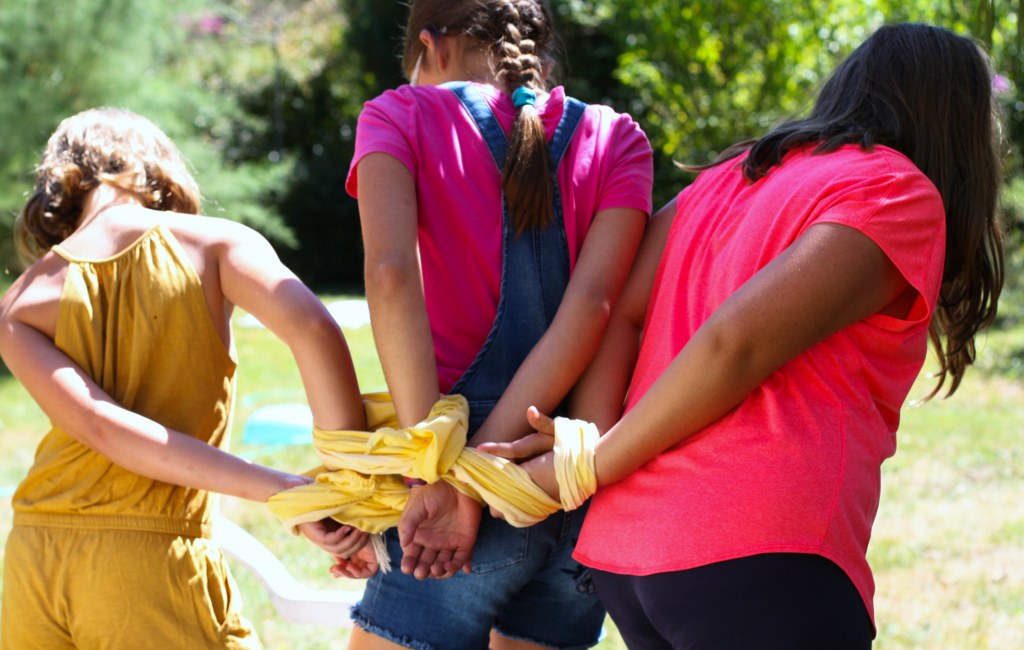 Here is an example of one reflection on what success in life means. "A successful life means uniting certain conditions and putting them to work, whether in one's family life, the political domain, spiritual life—as a farmer, a technician, etc. This process applies to all domains. Whatever direction we choose, we need a sound understanding to begin. Furthermore, we need to define our goals and adopt a vision that leads our understanding in an appropriate direction. We must also adopt ethics that support our capacities as we embark in life so that we do not take the wrong direction. These are the positive conditions that guarantee one's life path."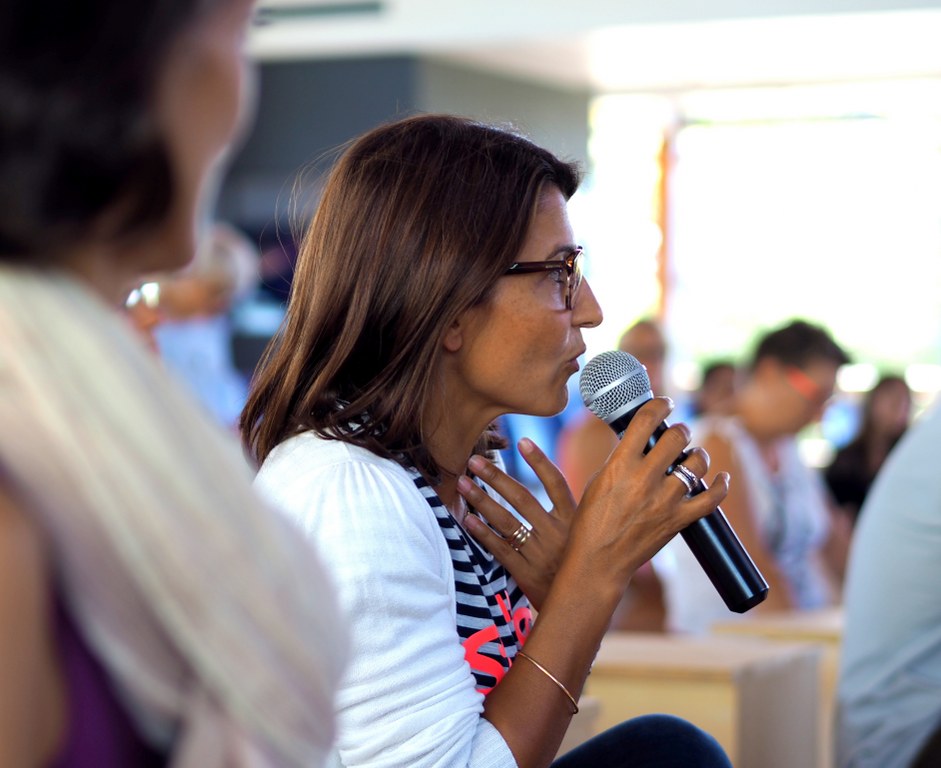 Rinpoche adds that the starting point for a parent is to be aware of his or her own state of mind and to cultivate appropriate motivation. Education is the meeting of the parents' clarity of mind with the children's capacities. It requires a lot of communication. He emphasizes that the educational process is not easy; it's a longterm process that takes place from day-to-day. But with the relevant reference points and inner and outer resources, it leads to a helpful and useful result for others (you can find further information of the Institute's Education Site).
We concluded the day with a new meditative exploration and workshops to help us experience from within the stakes of communication.
Day 3: Intergenerational Encounters as a Resource
The previous day, parents asked what went on in the teen and child workshops. To reply to this query, we started the day by presenting each activity to the entire group. Olivier and Barbara, the group leaders for the children, present the dynamic they set up and let the children fill in the rest by sharing their experience. Emmanuelle does the same for the teens. Lastly, we present the adults' exchanges to the younger groups. This proved less than simple! To general surprise, five participants had prepared two skits: one family situation where the communication between parents and children doesn't function and the same situation with a more creative communication. With a lot of laughter, they were able to share the themes that we were there to explore (see the summary of the first day above) in a way that was comprehensible for everyone.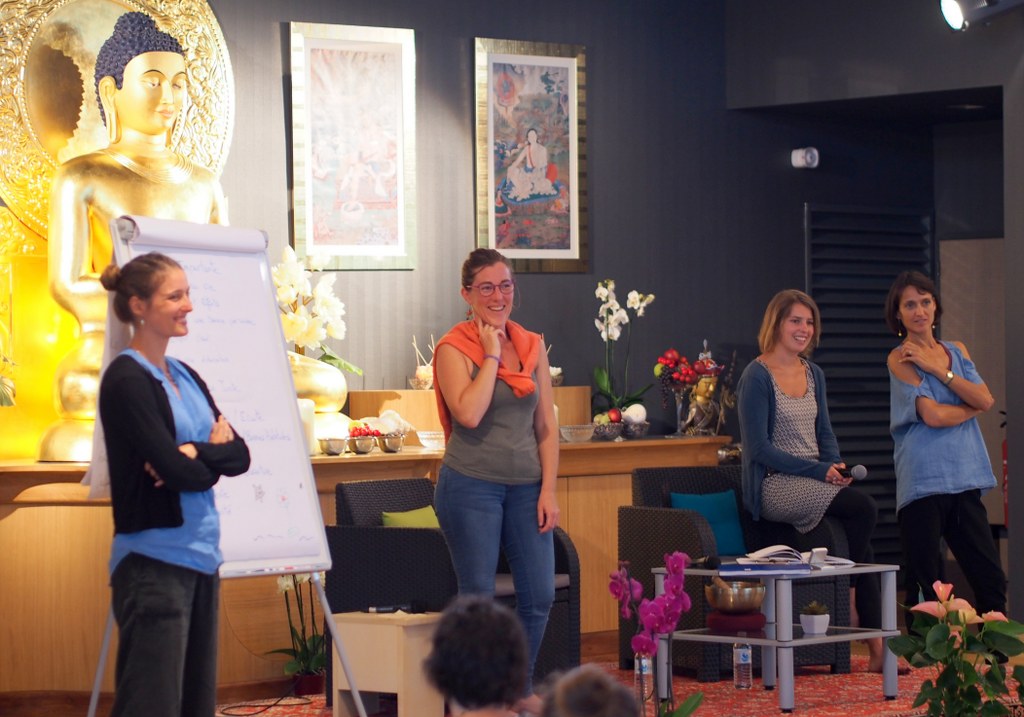 A final exercise brought all the generations together for a reflection in small groups based on one tricky question: Should parents talk to their children about their problems? In the end, the adults were surprised by the clarity of the children's propositions; of course they should talk to them, but progressively, in relation to their age.
An open Q&A session with Jigme Rinpoche brought the forum to a close. At the end, we asked him what conclusion he might like to offer. He replied, "We have talked a lot about the relationship between parents and children and the obstacles we may encounter. It isn't easy, and it requires a lot of exchange between the generations. I hope that the children will continue to question. For the parents, it takes a lot of patience to acquire good habits. Taking care of a child is taking care of the parent he or she will be one day. In this way, education is a process of transmission. There are no miracles. It isn't something that can happen overnight. Naturally, it is progressive. What we apply today will be beneficial for all in the future."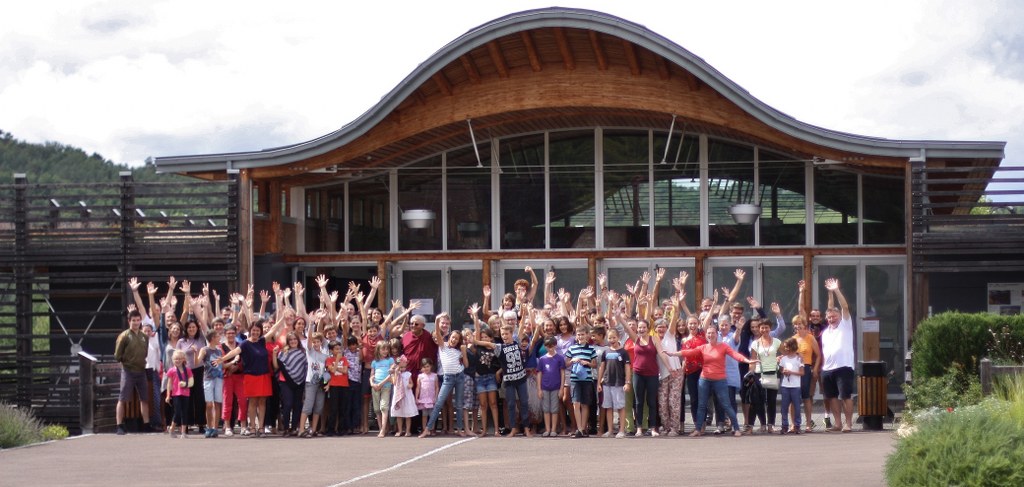 Puntso, Head of Dhagpo's Program